I whipped up some quick Oriole's baseball tanks for the girls a little while ago. These tanks are relatively easy to make. I think it took me a couple hours from cut to finish, but I was making it up as I went so they could probably be made faster.
I used 2 XL Jerzee tees so I wouldn't have to bother with hemming the bottom. The black lace was leftover from my
Project Sewn
80s lace gloves. I picked up the sheer orange fabric with little shimmery dots from Joann's.
I used the
Party Dress
front bodice pattern and extended it in an A line to the length I needed. I used the same pattern for both the front, back, and back overlay pieces. Once I had the three pieces cut out, I sewed the overlay onto the back t-shirt fabric piece with the wrong side of the t-shirt fabric facing the right side of the overlay. Then I flipped the overlay over so the right side was showing. I hemmed the arm and neck holes of the front t-shirt fabric piece before sewing it to the back with the right sides together at the sides and shoulders.
At this point, the tanks were looking a little Halloween-y. I decided to use a freezer paper stencil to add the Oriole's "O's" symbol/logo. There are a lot of tutorials out there on how to do this - I highly recommend trying this out!
Since this was a rush job, I only used a couple layers of fabric paint - the black tank could use another layer. This was a pretty satisfying project since it filled a gap in their wardrobe. They have a ton of dresses and skirts, but not much sports gear (yet).
Go team!!! Actually, this is just them showing me their muscles. So cute!
Also linked at: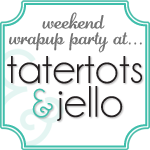 Think Pink Sunday