The last week of
Project Sewn
is here and the theme is Signature Style. This theme was a tough one for me. My signature style has changed a lot throughout the years. It has definitely evolved since having the girls. I wear a lot more black and easy fitting clothing now. My closet is filled with clothes that I can't quite fit into again yet that are way more me than what I throw on lately. Looking through my closet led me to discover I tend to buy items I can mix together in order to get more outfits for less. I also noticed that I love prints and bright colors. I'm always drawn to colors that stand out in the racks at the stores. I have to talk myself out of buying the most obnoxiously attention grabbing color because it's usually the tackiest option. I only buy neutrals if I need too, mostly for layering purposes (cardigans). A big thing I also noticed is that I tend to gravitate towards tops that have something in the neckline to draw attention up.
My closet is pretty divided between stuffy work clothes and comfortable weekend wear. I had a hard time sewing for just one look, so for this sew along I decided to make two looks to reflect my Signature Style. They are nautical inspired, but look a little patriotic. I guess I'm ready for the 4th of July!
Let's start with this skirt - part of my Workday look. The fabric is a Riley Blake chevron. Months ago I saw a tutorial on how to sew this skirt over at
One Little Minute
. I almost made this skirt several times but had trouble setting aside time to sew something for myself rather than the kids. Thanks Project Sewn for the perfect opportunity! The tutorial was really easy to follow, but I probably wouldn't baste the pleats so far from the waistline if I do it again (which I likely will). I spent more time with the seam ripper than I'd ever like to on purpose. I decided to mix it up and have the chevron vertical on the waist band and I think it turned out really cute! Also, shocker - I love pockets but I will omit them from this skirt in the future. Having a side zipper next to pockets was a little awkward to sew and makes the skirt a little less formal than I had intended. Speaking of pockets - check out the cute bird print I used. I believe it is Jansdotter, Bella Tipu Bird in Schooner.
On to the top - I used the
Casual Lady Top
pattern and some cute striped knit from
Girl Charlee
. I brought down the front neckline about an inch and a half because I knew I wanted to bind the neckline and add a tie. I made bias tape and top stitched it around to meet at the shoulders. Then I just tied them in a knot. I got the idea from seeing a tutorial over at
CINO
. Oh, and did you see that stripe matching on the shoulder?!? I learned that I never want to try to match such little stripes ever again.
So that was my Workday look, on to the Weekend! I typically wear yoga pants all weekend and grimace when my husband begs me to put on a pair of jeans. It's sad when jeans aren't casual enough. Time to try a little harder like I used to. I decided to meet in the middle of sloppy and casual and make a knit fit-and-flare style skirt. I still made it with a yoga waistband so that it was super comfortable - though you can't tell in the picture because the shirt is untucked. Shirts don't get tucked in on the weekend! The slinky pink fabric is also from Girl Charlee.
Thanks
Project Sewn
for the opportunity to try new things and sew along! I had a lot of fun and built up some confidence to sew more for myself. Voting for this last week of sewing along starts on Friday - head on over and check out all the wonderful looks!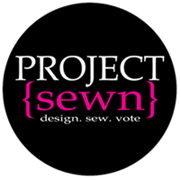 Also linked at: